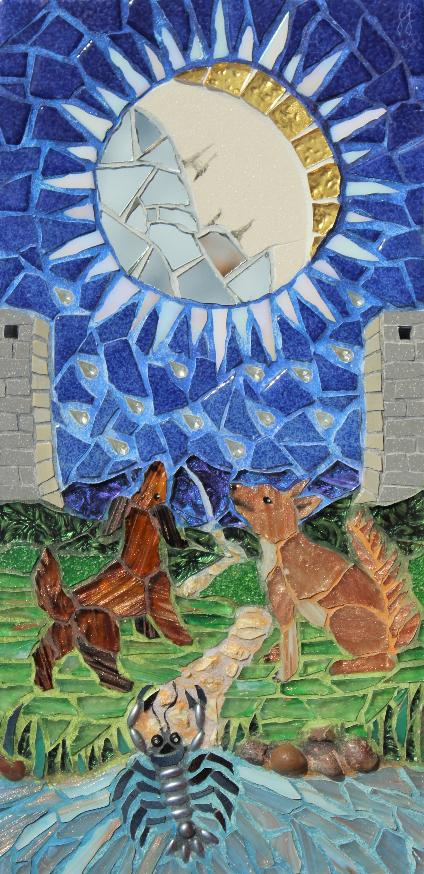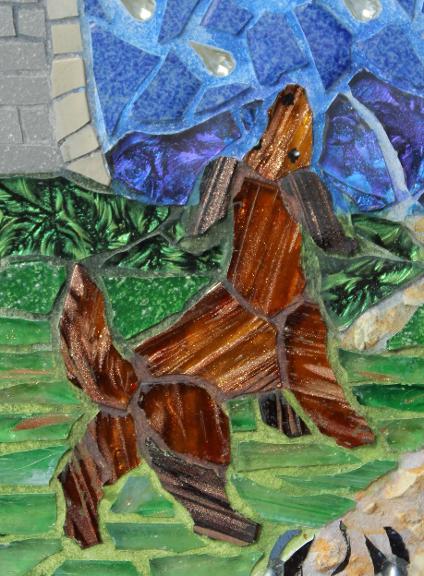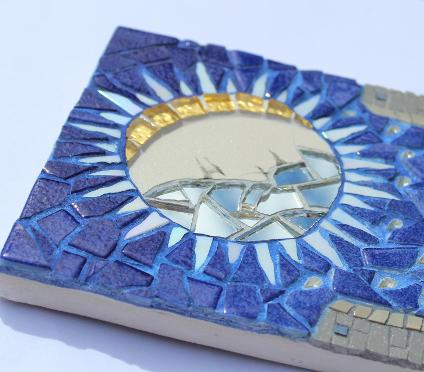 The Moon is the 18th card of the Major Arcana in the Rider Waite Smith Tarot deck. The two dogs are created out of gold threaded mosaic glass to give them a furry texture, the lobster is a mix of beads and iridescent black glass. The path and the water's edge are pebbles, while the hills in the background are all Van Gough glass. The moon is half mirror, half pearly stone tile with a sickle of gold Smalti from Venice and the moon's rays are iridescent mosaic glass. Glittering glass jewels form the 14 drops falling from the Moon. One detail I am particularly pleased with: The windows in the towers are also iridescent black glass, so the windows look dark and empty until the light catches them, when they suddenly seem to light up.
I made the whole card a bit darker than the original, as I wanted to capture the magic of a moonlit night. The moonlight is more silver than gold in my version, and the path leads away between the towers to a mysterious magical landscape just waiting to be explored.
The details of the faces and paws are painted on with enamel paint and protected with a layer of lacquer.
The mosaic measures 13 by 26 cm, it is created on an MDF backing, grouted in off white and features painted grout lines.
2020,in private collection in Alexandria VA, USA.