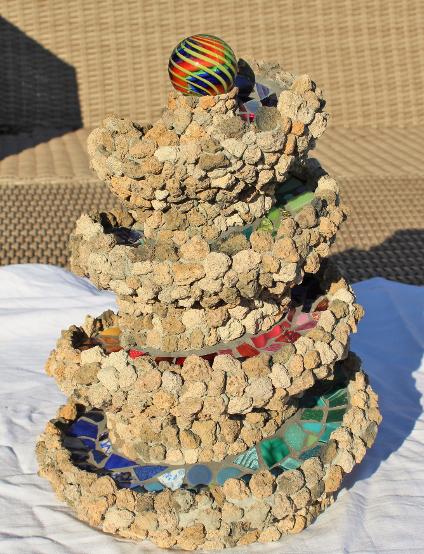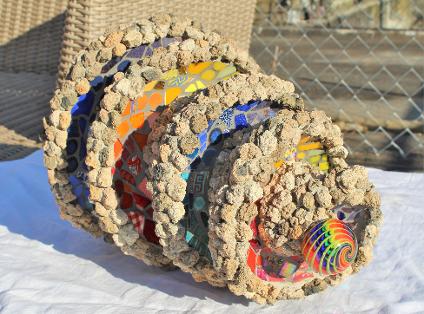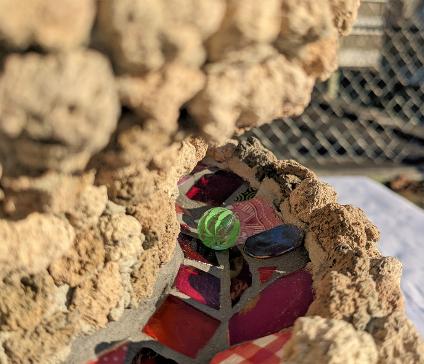 This Marble Run has a rainbow coloured mosaic ramp constructed out of all kinds of glass, tiles, china, crockery, iridescent, textured, patterned... there are tons of different colours and materials, grouted in dark grey. The outside is covered with natural pieces of volcanic rock, the underlying base is constructed out of concrete and chickenwire. The marble on top is a rainbow coloured art marble by Eddie Seeze - sadly cracked and therefore uncollectable, but given new life in this functional artwork. The Marble Run is 36 cm tall and 26 cm wide.
It is inspired by the marble run sandcastles we used to build on the beach, and like those the marbles take a very organic and erratic path to the bottom. Some make it all the way to the bottom, and some don't... but all of them make cheerful tinkling sounds as they bounce their way down.
I alsomade a far larger marble run, which can be seen here.